come Fly with us
Offering amazingly stunning flights over Lake Blackshear and the Crisp County Area, come see South Georgia from a new perspective with us today!
We have been flying for more than twenty years now, and have flown Hot Air Balloons on three different continents. For us, ballooning is a family affair and a passion; something that we love to do and to share with others. When life called us back to the Cordele Area six years
ago, we jumped at the chance to come and to bring Hot Air Ballooning to Lake Blackshear and the Crisp County Area. In addition to flying here, we fly all over the country, and the world, with our fleet of balloons, including two special shaped balloons, Sunny Boy and Mr. Winter!
Some of the cool things we do
Flight Training
Have you ever been in the sky and wanted to be the one in control of the aircraft and the flight plan? Perhaps you have been on a flight in a Hot Air Balloon and now you want to take things to the next level and learn how to fly. Our Pilots hold commercial certificates which in the Lighter Than Air Community comes with Certified Flight Instructor status. Come learn to fly with us today!
Balloon Flights
Are you tired of just seeing the balloons fly by peacefully in the sky, using your imagination to picture what it would be like to be among the clouds? We offer scenic balloon flights at Sunrise and before Sunset most weekends and some weekdays by appointment. Now you can be the one in the air, looking down at the world around you from a one of a kind vantage point.
Special Shape Balloons
As if Hot Air Balloons weren't cool enough or a modern marvel already, special shaped balloons exist in all kinds of different characters, colors, and shapes. Many of them are gigantic in size and showcase the amazing artistry and imagination of their builders and owners. We are lucky to own two of the most iconic and unique shapes in the world, Sunny Boy and Mr. Winter!
Balloon Tethers
Sometimes you want to expose a lot of people to the magic of a balloon flight at the same time. Other times, you want a way to give a 'taste' of what an actual balloon flight feels like at a birthday party, church function, or corporate event. In this case we can tether a balloon to the ground and it rises up 30-50 feet off of the ground for a few minutes, before returning to the ground to exchange passengers and do it all over again.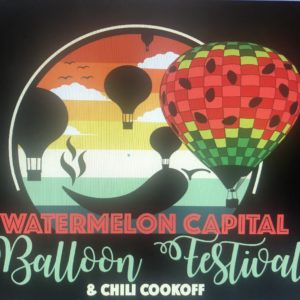 balloon festivals
We plan and host the Watermelon Balloon Festival each year, right here in Cordele, Georgia, where it has grown to become one of the premiere ballooning events in the southeast. In addition, we provide event management and staffing for several other events in Georgia and are always eager to talk with others who are interested in having Hot Air Balloons be a part of their signature event.
Balloon Flying Club
We are proud to be host for the Unofficial Georgia-Florida Balloon Flying Club, with members from all over the southeast! The club meets bimonthly in Cordele for fun flys and fellowship and we are always looking for more unofficial members to join our unofficial club and come discover what ballooning and 'crewing' are all about